There's something in the water around Topsail Island.
Kim Gadow and her family own and run the Three Little Spats Oyster Farm in Wilmington, NC and have a personal understanding of the impact the local wildlife has on the area.
"We are very connected to the waters here and all creatures that live here," said Gadow, an Implementation Lead Consultant at Huntzinger. "Sea turtles are important to our ecosystem. They are also very cool and interesting animals."
Once she learned of The Topsail Turtle Project, Gadow knew exactly where she wanted to donate her spare time.
The Topsail Turtle Project was created by Karen Beasley to preserve and protect the sea turtle nests, nesting females and hatchlings along the 26-mile coastline of the island. To honor Beasley, residents, local businesses and visitors donated time, money and materials to build the 13,000 square-foot Karen Beasley Sea Turtle Rescue & Rehabilitation Center.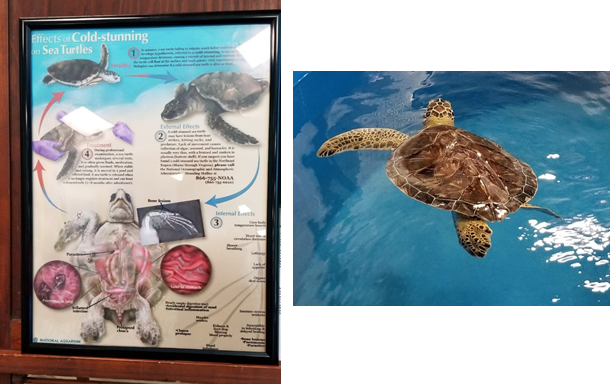 The Rescue Center Mission Statement:
The conservation and protection of all species of marine turtles both in the water and on the beach
The rescue, rehabilitation, and release of sick and injured sea turtles
To inform and educate the public regarding the plight of all sea turtles and the threat of their extinction.
To provide an experiential learning site for students of biology, wildlife conservation, and/or veterinary medicine from around the world.
Before the pandemic, Gadow volunteered at the Turtle Hospital for tours, stationing herself at the exhibits to provide information to guests.
"During the tours, you learn about the different turtles we see here on the North Carolina coast, the rehabilitation and release program – including the care of cold stunned turtles that are sent here – and education on the harmful effect of plastics in our waters," said Gadow.
Although the way she volunteers has shifted, Kim is still able to dedicate time to the turtles.
"Now that we are working remotely, I am able to commit to the early morning walks to look for nests. When a nest is due to hatch, we will be scheduled to sit each evening to monitor the nest. This could be a few evenings or more than a week."
The best part of volunteering with sea turtles?
"My youngest son and I were fortunate enough to see some babies hatch and make their way to the ocean," said Gadow. "These are truly fascinating animals."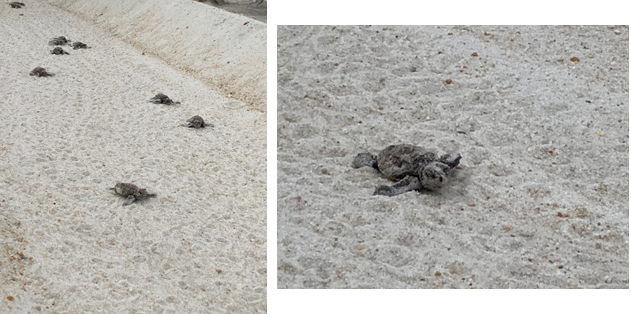 So, what's in the water at Topsail? Well, it's baby sea turtles about to begin their journey in the Atlantic Ocean.
To learn more about the Karen Beasley Sea Turtle Rescue & Rehabilitation Center, click here.
To learn more about Huntzinger Helps, click here.