Virtual Services
2020 and 2021 Best in KLAS for HIT Advisory Services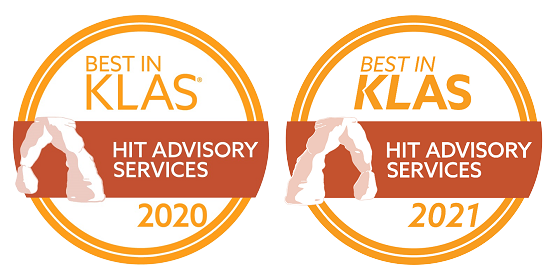 Dedicated to the Healthcare Industry
For more than 13 years, we have provided our services to healthcare providers mostly as an on-site partner. With a staff located all across the country and operating as a virtual company since our inception, we were able to quickly adapt to continue to provide our services on a virtual basis.
From in-person to online,
we still give you the best.
As the times change, Huntzinger continues to adapt. We'll still offer our Best in KLAS services, but this time, it will just be through a computer.
We'll provide the same level of high-quality services and deliverables that you are accustomed to from our on-site activities. With substantial cost savings and the ability to perform services more effectively, Huntzinger is positioned to provide you with  Advisory Services with as much virtualization as you desire.
Virtual Services include:

IT Roadmap and Governance
IT Roadmap and Governance
Provide actionable tactical steps tied to business strategy and objectives.
Learn More

Project Management

Revenue Cycle Optimization
Virtual Successes
A sample of our current projects being accomplished virtually are:
System selection, inclusive of all vendor demonstrations and site visits, for critical access hospital in the North East
IT assessment and procurement management for specialty hospital in the Midwest
IS and security assessment for healthcare system on East Coast
Integration testing for large academic system in the Pacific Northwest
Project management assistance for large academic system on East Coast
Mergers and acquisition activity with five specialized project managers for academic system on East Coast
Revenue cycle stabilization for an integrated delivery system in the Midwest
Data Interfacing and integration assistance for large academic system on East Coast