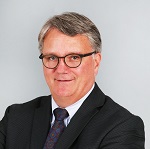 Tom Fleming
Client Executive

Tom Fleming, PMP has over 20 years of experience in the healthcare environment. As a Client Executive for Huntzinger, Fleming develops and grows client relationships while leading his delivery teams to achieve the highest levels of clinician and operational staff engagement and software adoption.
Starting as a mainframe programmer in 1998 on a Y2K project, Fleming has experience in revenue cycle, clinical ancillary and financial software. With extensive knowledge in implementing, optimizing and supporting EHRs, Fleming switched to working with Epic in 2010 as an ambulatory analyst and has primarily worked on Epic implementations and optimizations since. Fleming is PMP-certified and has strong project management, organizational and time management skills.
Fleming is Epic-certified in EpicCare Ambulatory, EpicCare Ambulatory Order Transmittal Masters, Chronicles Install Utility, Hyperspace Configuration, MyChart, Cadence, Prelude and Hospital Outpatient Department. Fleming received his B.A. with Distinction in Theater Design and Technology from Purdue University with a Certificate of Programming in the Computer Career Program from DePaul University.