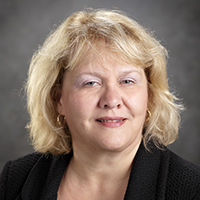 Tanya J. Freeman
President and COO, Founding Partner

Tanya Freeman brings more than 25 years of healthcare experience to Huntzinger's executive team. As President, COO and a founding partner of Huntzinger, Freeman is responsible for overall operations of the company, including direct oversight of all client delivery management activities. While versed in all aspects of healthcare information technology, she offers Huntzinger and its clients exceptional expertise regarding IT strategy, governance, staffing, and system implementations.
Freeman has held numerous executive and leadership positions at various health systems and organizations, including CIO, Vice President and Hospital Administrator and Director of Health Information Management and Quality Assessment. Prior to founding Huntzinger, Freeman was a Vice President at Superior Consultant Company/ACS Healthcare Solutions where she was instrumental in operating their IT services outsourcing business and developing and managing consulting practices. Her experience in hospital operations combined with health information technology expertise and large complex project management enables Freeman to provide clients with an exceptionally balanced approach to addressing their IT challenges.
Freeman holds a Master's of Science and Administration degree focused on Financial Management from Central Michigan University, and a Bachelor's of Science degree in Medical Record Administration from Ferris State University.