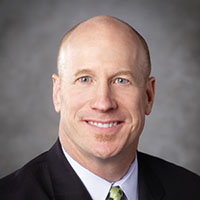 Robert S. Kitts
Chief Executive Officer, Founding Partner

Robert Kitts has more than 25 years of experience working with providers, payors and technology companies to help them increase the value they can attain from utilizing appropriate technology. As the CEO of Huntzinger, Kitts works with the company's partners to establish and implement strategies to grow the business, expand service offerings that continually meet or exceed client expectations, and evolve third-party relationships. Along with his executive role, Kitts provides Huntzinger with specific expertise relative to IT strategy, total cost of system ownership, and software contracting.
In previous positions, Kitts has served as a Vice President at Superior Consultant/ACS Healthcare Solutions where he was instrumental in mergers and acquisitions while continuing to work directly with clients. Other past positions include being a Regional Director at Health Systems Design, and the Director of Managed Care for Integrated Medical Systems.
Kitts is an active member of the Health Information and Management Systems Society (HIMSS). He received his Bachelor of Science degree in Business Administration, with a minor in Computer Science, from Wagner College.