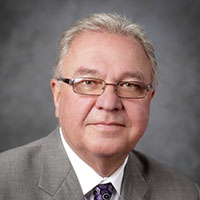 George S. Huntzinger
Chairman of the Board, Founding Partner

George Huntzinger is the founder of The Huntzinger Management Group, Inc., and its current Chairman, where he guides the strategic direction of the company. Mr. Huntzinger's 45-plus years of healthcare experience provides him with a unique perspective on industry trends that impact Huntzinger's clients.
Prior to founding The Huntzinger Management Group, Mr. Huntzinger was the President and Chief Operating Officer of Superior Consultant Holdings Corporation. Prior to that position, he was the President of CSC Healthcare for almost 13 years.
Mr. Huntzinger has held board positions at several organizations including Misericordia University, the Great Valley Technology Alliance, and LiquidHub. He is a Gold Member of the Healthcare Information and Management Systems Society (HIMSS) and a Member of the World President's Organization, Detroit Chapter. Mr. Huntzinger holds a Bachelor's of Science degree in Marketing Management from the University of Delaware, and an Associate's degree in Business Finance from Susquehanna University.