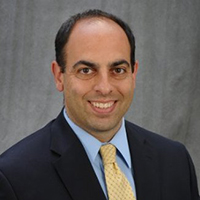 David DiChiara
Chief Financial Officer

David DiChiara has more than 17 years of financial management experience and is responsible for all aspects of Huntzinger's financial function, with a primary focus on strategic management, market performance, and driving value for shareholders.
Prior to joining Huntzinger, DiChiara spent more than 10 years with Chrysler Financial managing a multi-million-dollar automobile wholesale portfolio in the Northeast and Mid-Atlantic region. In addition, he was responsible for managing a portfolio of revolving lines of credit along with capital, construction, and real estate loans.
DiChiara is a Certified Public Accountant (CPA) and a Certified Management Accountant (CMA). He holds a Master's of Business Administration in Finance from Iona College and a Bachelor's degree from Stony Brook University. DiChiara is an active member of the community, serving on the finance councils for local non-profit groups, and is an active member of the American Institute of Certified Public Accountants (AICPA), Pennsylvania Institute of Certified Public Accountants (PICPA) and an active member of the Institute of Management Accountants (IMA).